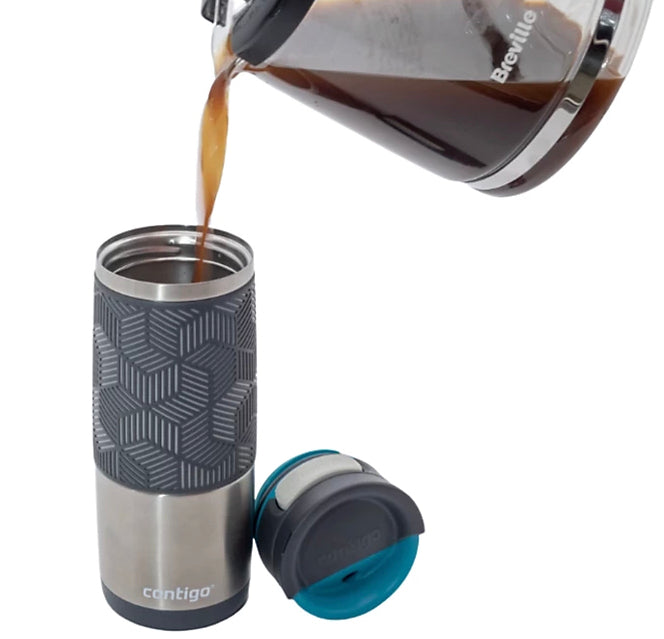 Contigo Transit 16oz Drinks Bottle
Product information
**Contigo Transit AUTOSEAL™ Travel Mug 460ml**
Transit by Contigo is your perfect travel companion. Designed for the modern commuter, this stainless steel mug comes with spill-proof AUTOSEAL™ technology. It ensures you arrive at your destination free of beverage spills. Its CleanGuard™ lid protects the spout from germs and locks the AUTOSEAL™ button, while THERMALOCK™ insulation keeps your drinks hot for up to 5 hours. It's your go-to mug for a worry-free, caffeinated day.
**Features:**
- **AUTOSEAL™ Technology:** Spill-proof and leak-proof.
- **Push & Seal:** Push to sip and release to seal.
- **Twist to Lock:** Covers spout and locks button.
- **THERMALOCK™ Insulation:** Hot for 5 hours, cold for 12 hours.
- **One-Handed:** Easy single-handed operation.
- **Soft Grip:** Secure handling.
- **Easy-Clean Lid:** Opens fully for thorough cleaning.
- **One-Piece Lid:** No loose parts.
- **Dishwasher Safe Lid:** Top-rack only. Body is hand-wash.
- **Car Friendly:** Fits most car cup holders.
**Specifications:**
- **Dimensions:** 7.8 x 7.8 x 21.5 cm
- **Material:** Double-wall, 18/8 Vacuum-insulated Stainless Steel
- **Hot/Cold Duration:** Hot for 5 hours, cold for 12 hours.
- **Colour:** Biscay Bay
- **One-Handed Operation:** Yes
**SKU:** 2095402
On Instagram
Join our online community @s.k.camping