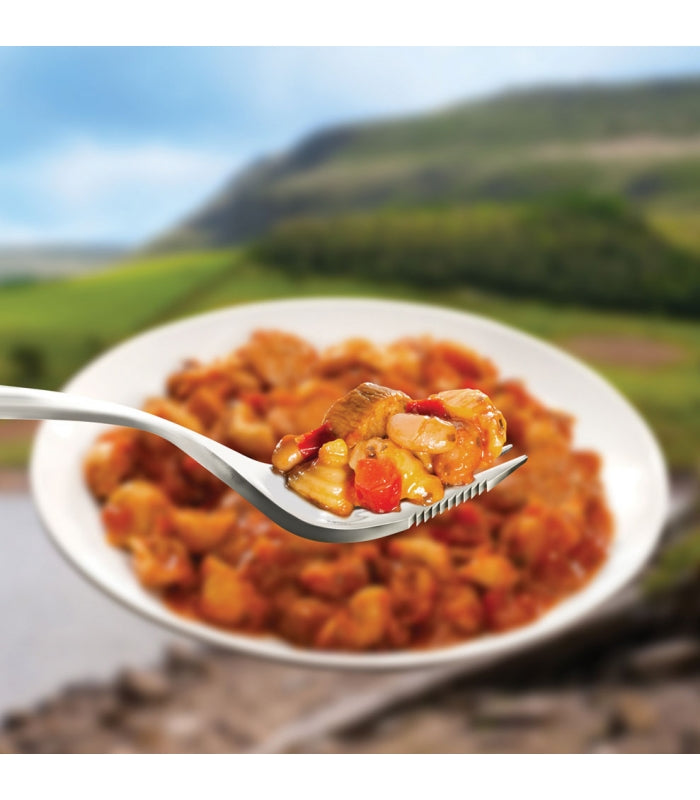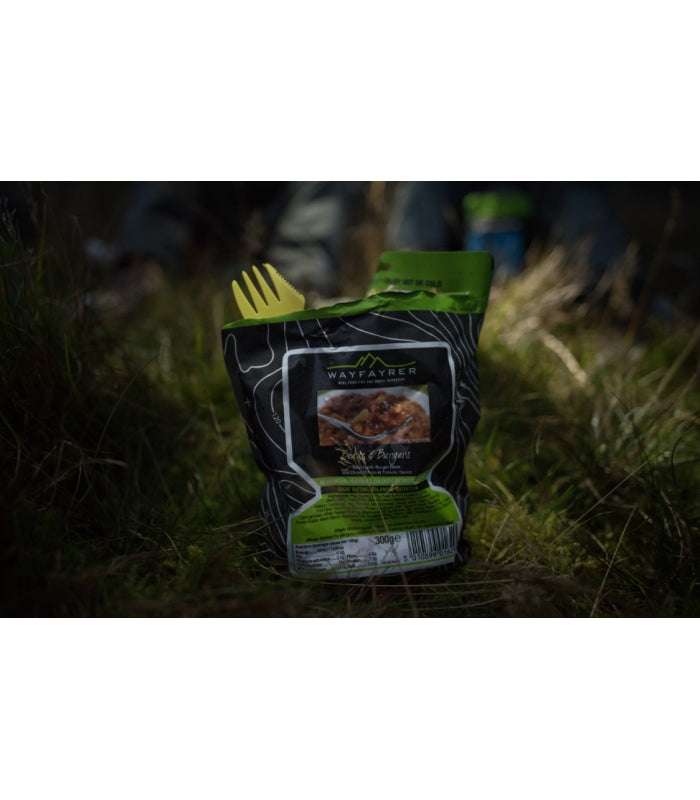 Spicy Sausage & Pasta by Wayfayrer
Sliced Pork Sausages with Pasta Shells in a spicy Tomato Sauce
Tested in extreme conditions from Everest to the jungles of Borneo, Wayfayrer Foods have become the meals of choice for explorers and adventurers who want tasty real food to provide sustenance and energy. Not just confined to extreme locations Wayfayrer Foods is equally at home on the hills of Britain and Ireland. This leading brand of ready to eat real food for the great outdoors. Each packet is sealed in a robust foil pouch and is easy to carry simple to prepare and can be served hot or cold.
Ingredients:
Cooked Pasta Shells (28%)(Water, Durum Wheat, Egg Albumen), Pork Sausage (15%)(Pork (78%), Water, Pork Fat, Rusk (Wheat Flour (contains Calcium Carbonate, Iron, Thiamin, Nicotinamide), Salt, Raising Agent: Ammonium Bicarbonate), Potato Starch, Salt, Dextrose, Stabiliser: Disodium Diphosphate; Yeast Extract, Spice Extracts, Rapeseed Oil, Sunflower Oil, Filled into Bovine Casing), Tomato, Tomato Puree, Black Eyed Beans (8%), Onion, Water, Red Pepper, Olive Oil, Soured Cream (contains Milk), Maize Starch, Garlic Puree, Modified Maize Starch, Sugar, Red Chilli, Basil, Flavouring, Salt, Smoked Paprika.
Allergy Advice:
Gluten from Wheat, Egg and Milk.
Origin:
Made in the UK using Pork from the UK
Net Weight:
300g
Nutritional Information:
Average Values per 100g
Energy: 533kj/127kcal.
Protein: 4.5g.
Carbohydrate: 13g.
Fat: 5.8g.
Storage Advice:
Store unopened Pouch in cool dry conditions
Shelf Life:
3 years from date of Manufacture
Instructions of use:
Real Food ready to eat – The contents are fully cooked and so may be eaten hot or cold. To serve hot: Place unopened pouch in boiling water for 7-8 minutes. Alternatively empty the contents into a suitable saucepan and stir gently whilst heating thoroughly on a camping stove.
Specifications
On Instagram
Join our online community @s.k.camping